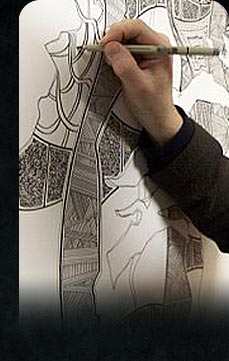 Although working in music and art are often separate entities for me, I have always been most passionate about exploring ways to join their forces together.
My Visual Art in all of its forms celebrates the marriage of music and art and, at the same time, explores the potential of the subconscious mind; what happens creatively when all pretense and "mask" is let down; when the mind and hand are free to create without restraint.
The improvisational aspects of art and music are the catalyst for this urge. My artwork is freely improvised, in a process akin to meditation, within a basic frame or outline of its form. The details are rendered spontaneously with a stream of consciousness flow, similar to the process of creating improvisational music.
As I talk about in my presentations, I strongly believe that anyone's life can be fuller and more enriched by using the metaphor of Music and Art improvisation.
-Lennie Peterson