Click here to view a work in progress of the composer Charles Ives.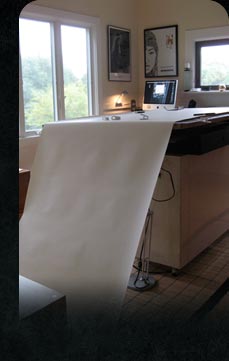 WORK SPACE
One of my prize possessions is a large and heavy hydraulic drafting table (5' X 4') that I purchased from a local architect long before I knew what I was going to use it for or how I was going to move it. I had never seen such a large worktable and, with its hydraulics and flexibility of height and angle adjustment, I just couldn't pass it up. My nephew Todd and I loaded it into the pick up truck and it sat in storage until the idea for the large portraits came along. I knew I would be using that drawing board for something someday. Now I can't do without it on any of my projects.

The table sits as the centerpiece of my studio, in the face of a large window across the street from the ocean.
PAPER, PENS, INKS
My work on the large composer portraits is done on Strathmore 400 series paper, purchased in rolls. The original artwork is 6' X 3' with all details hand-drawn in pen, brush, ink and oil markers and paint.

For the pen and ink work, I use Micron brand pens, usually size #2 down to .08 and .05. The pens and paper are archival (meaning they won't fade with time) and Micron pens are hassle free as they don't grab the paper or collect residue. I have relied on them for years including my past work with my daily comic strip and any current illustration assignments.

When I do black ink brushwork, I use FW brand black ink. In my opinion, this is the most effective and blackest of the black inks out there.

This is all very "old school" and a computer is not used for the portraits whatsoever until it is time to digitally photograph the hand drawn artwork and sharpen the image via computer for its projection. I am on the computer constantly for other projects and computer generated works. I have done much commercial graphic work over the years using my Macs. For me, though, these portraits are about pen-to-paper and that feeling of letting the hand go where it wants to go. The "feel" and sound of pen to paper is why I started drawing in the first place.

For the color work, I use Prismacolor pens along with oil paint. Prismacolors are easy to control and are also archival. They work well for me outlining the oil brushwork.
PROCESS
The link provided here shows a work in progress, start to finish, created for a New York exhibit of the composer Charles Ives.

I work from a photo of the composer or artist and first draw the outline of the face very lightly in pencil. This provides the outline or "frame" for me to work within, using the pen and brush. That outline is the only preliminary pencil sketch that I do.

The inked details of each drawing are then improvised within the basic frame or outline of that penciled form. The drawings are rendered spontaneously with a stream of consciousness flow. In my public speaking presentations, I always relate this process to a person doodling while on the phone, letting the mind and hand drift. And an even better comparison is that of a jazz musician who is able to improvise freely and spontaneously within a given form and framework of chord structures.

The color for the background is somewhat more deliberate in process. The color is selected to represent the composer's "essence" and nature while the geometric shapes represent musical structure and form.

Each portrait takes several weeks to complete, a few hours a day. I do mean to keep track of time on one of these someday but I get very caught up in the process while working so I have a tendency to forget to keep an eye on the clock or log the time. It seems like work to do that.
ELEMENTS
Each compositional element serves a specific purpose.

For instance, depicting only half of the face represents my belief that we can only know a part of the make up of such great musical figures. Or the make up of any person, for that matter, no matter how much we think we know a person. It's my hope that the more a viewer gets inside the basic physical form of the portrait, they will see and take interest in the details – like getting to know a real person.
PROJECTION
If the commissioned artwork calls for projection, the drawing is digitally photographed and the portrait is customized for high-definition projection on a large scale. The projections have ranged anywhere from 10- feet to several stories high.

My team and I project the image directly onto the surface of a building, which is a great effect because it allows the wall's surface to become a part of the artwork's background and texture. With projection, the image seems to take on a different life. It becomes an organic part of the performance venue and architecture.

There are two favorite parts of the creation process for me- the actual process of drawing in that stream of consciousness method then to see my finished art appear as a projection and in the light, against a building's wall and texture, sometimes as large as the building itself. Both of those things are almost indescribable for me as "magic" moments.
PRINTS
I have gotten into the habit of having all of my work photographed as I have started to sell more and more prints of the originals. I use a print company that can do one-offs or multiple giclee prints from digital photographs using a computer software designed for the printing of fine art. This way, I can sell prints at custom sizes and at a reasonable cost, a percentage of the cost of the original.
- Lennie Peterson