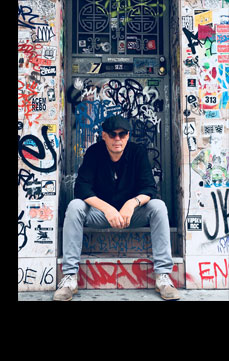 Lennie Peterson has devoted his life to art, music, and arts education. He has traveled the world as a visual artist, performer, conductor, arranger, producer, educator, and recording artist.
Lennie's current exhibition of large 4' X 8' composer portraits, titled "Face To Face", is in its second year of display at the new Boston Convention and Exhibition Center in Boston, MA. His award-winning artwork has been featured in solo and group exhibitions in galleries throughout the United States including the Ceres Gallery in New York City, the Brenda Taylor Gallery, the Williamsburg Art and Historical Center in Brooklyn, and the Angel Orensanz Foundation Center for the Arts in Manhattan sponsored by New York University's Institute for Humanities and The Knights, New York City's premier innovative chamber orchestra.
Lennie Peterson's art has been purchased around the world including private collections in the U.S., Spain, Wales, and Japan.
His internationally syndicated daily comic strip, "The Big Picture", appeared in more than 70 newspapers and was published as a book collection by Andrews/McMeel Publishing. The comic strip is currently in reruns on the syndicate's website, GoComics.com. He has illustrated 12 books, most recently a children's book by Monica Mansfield, "When You Have to Say Goodbye". By special request of talk show host Larry King, Lennie's work also appears in King's book "Remember Me When I'm Gone."
In addition to his love of visual art, Lennie is a professional musician and educator. He was Assistant Professor of Arranging, Composition, and Performance at Berklee College of Music where he created and developed new courses and instituted programs that remain in the Berklee curriculum to this day. After ten years at the college, he took leave to further establish his career in the Arts as an educator, visual artist, performer, band leader, composer, arranger, conductor, recording artist, and producer. He works in a wide variety of musical genres and settings including jazz, rock, Latin, and classical. Lennie has served as a creative consultant and music director for film and audio recordings and he also keeps a busy schedule as a singer and pianist.
As well, he tours as first trombonist with Grammy winning composer Osvaldo Golijov's "La Pasión según San Marcos", performing with some of the world's most renowned symphony orchestras and in the great concert halls of the world. Lennie appears on the 2009 international DVD and CD release of "La Pasión", filmed and recorded in Holland and performed at New York's Carnegie Hall in March, 2013. The concert was broadcast nationally on NPR radio.
As a public speaker, Lennie has presented to audiences around the world from public and private grade schools to colleges, universities, and corporate gatherings including Harvard University, McNally Smith College, Colubris Technologies, EMC Corporation, and The Boston Convention and Exhibition Center. His presentations feature the creation of one of his large composer portraits in front of his audience while accompanied by live music. His interactive discussion focuses on the common traits of history's great iconic Creative Genius and Lennie helps his audience members realize those commonalities, encouraging them to assimilate those traits for a richer, more creative life experience.
He also creates contemporary portraits and portrait projections for music festivals, concerts, public art, and corporate-sponsored events. Lennie is available for seminars and classes to discuss his work and the exploration of creative process, motivating people from all walks of life to explore their own personal artistic outlets.
He donates a part of all proceeds earned from his workshops and print sales to Why Me, Inc, a certified agency of the United Way, helping children with cancer and their families (http://wwww.whyme.org). Lennie's proceeds are earmarked specifically toward the purchase of concert tickets, musical instruments, and art supplies for children with cancer on their physical and emotional path to healing with the aid of the Arts and the creative process.
Lennie Peterson was born and raised in Central Massachusetts. His father is a musician and his late mother was an artist. He currently resides in a coastal community south of Boston, Massachusetts.